El Clasico, Point Inflation And How To Play Barca
Here we are again. Not long ago, this game used to be anticipated like no other. One that we would mark our calendars with and wait for in anticipation. Unfortunately, my calendar is not big enough to fit all the Clasico's we've had over the past 2 seasons. Instead, and this has a lot to do with our failures during the games vs Barca, we sit down, watch, and hope this ugly trend ends. The sun has to come out eventually, no? It might seem pitch dark and beating them is far away, but remember, it's always darkest right before it's dawn. Keep faith, support and as always, Hala Madrid! Now for stuff that actually makes sense rather than me making a bad nomz impression.
Chelsea vs Barcelona: Way to beat Barca?
The answer to that question is complicated, but I'll try and make is simple. Is the way Chelsea set up a viable model to set up against Barcelona and beat them? Yes. Yes it is a viable set up. But here is a subset to this question. Is the way Chelsea set up a viable option for Real Madrid to set up against Barcelona? No. No it's not. And here is why. It's not because Chelsea have better defenders than we do. Gary Cahill is not better than any of the CB that we have in the squad (that includes Albiol, Carvalho). But it's really simple. The sit deep and defend is a system that utilizes the best strengths that Chelsea have. When a system utilizes the best qualities of those players, then even if the individual skills are not that superior, the resulting overall effort is very good. Jump back to Real Madrid, and you will notice that the majority of the players are not suited to defend deep and absorb pressure. Yes, that utilizes their good quality of counter attacking, but at the same time it puts emphasis on an aspect they are not best at, which is defending.
To take it into more perspective, Chelsea had to rely on Barcelona hitting the post 4  times and a goal line clearance to keep a clean sheet. Will Chelsea be this lucky in the Camp Nou? I don't think so. But anything can happen. What's important is Real Madrid and how they play Barcelona on Saturday.
A lot of what i said on the last clasico, IMO, still holds a lot. So here, have a read again because I'm not going to go into those specific tactics again. What i will discuss is the idea of pressing  up front like we did last league clasico. We started the game off in a very strong manner, trying our best to cut off the Barcelona attacks before it started. And it worked, as within the first 20 something seconds after our press forced Valdes into a mistake. Then after that we got a couple of rather easy chances that we couldn't convert. Barcelona scored a goal against the run of play and boom, we lost the plot. Considering the amount of physical exhaustion that we are going through with the Bayern game just 3 days ago, Mourinho needs to  be wise about what he asks from his players. To press for 90 minutes and put in an exhausting performance might really back fire. The reason behind that is because the players are both physically and mentally exhausted at the moment. To ask them to go into over drive in terms of hunting in packs might just run them out of fuel and derail the season as it is.
Instead, the team needs to  be wise in it's set up and in knowing when to press hard and when to actually save some legs. Now i know what I'm saying might sound like I'm saying the players should not put as much effort as they should. And that is exactly NOT what I'm saying. What I am saying is that pushing so high up and then tracking back after committing so many players forward might really not be the wisest thing. Instead, we must aim for balance. Balance all across the field, with coherent link up between front four and back 6.
An essential factor that we will need for this game is to use a creative Trivote in the middle of the field. The key word in that last sentence is "creative". A trivote of players that can defend rather than attack will not help us much going forward. This is why i suspect that a trivote of Alonso-Khedira-Granero should be used in this game. If we recall the last game we played against Barcelona in the Camp Nou, the introduction of Granero sparked a more creative and controlled midfield. Granero also offers the flexibility that we don't have with Alonso and Khedira alone as Alonso only plays the ball from deep, while Granero offers the ability to play the ball a bit further up the field.
With that said, it has been reported very widely that the possible set up with be  with Kaka and Ozil in midfield. While this formation sounds appealing in terms of attacking, it has to be applied in terms of a viable 4-3-3, with Kaka and Ozil exchanging roles in being at the head of that middle 3. It will require a lot of dropping deep from one of Kaka or Ozil, though. What this will also require is for one of Kaka or Ozil to defend the wings to make sure whoever plays at right back or left back is not double teamed. This brings us to the question of who will  play at full back….
Against Bayern, both Coentrao and Arbeloa played at left back and right back respectively. Without a doubt, both those  players put in a lot of effort for this game. This however, does not pertain that  they will not play against Barcelona. Who starts in this game will be influenced a lot with who Mourinho wants to start against Bayern. Considering we are looking for a win against Bayern, i would suspect that Marcelo will play that game. This makes it a bigger possibility that the more conservative Coentrao will play against Barcelona. Arbeloa will also be starting against Bayern, after the rather surprising and good performance that he put against them last Tuesday. But the question is: If Arbeloa is going to be rested, who will be starting instead of him. I can think of three options: A) Lass, B) Altintop and C) Coentrao (with Marcelo at left back). I'm not so sure how much options A and B are viable considering how little they have played in the past month or two. With that said, Altintop played the first CDR clasico without having played much before. So everything is possible.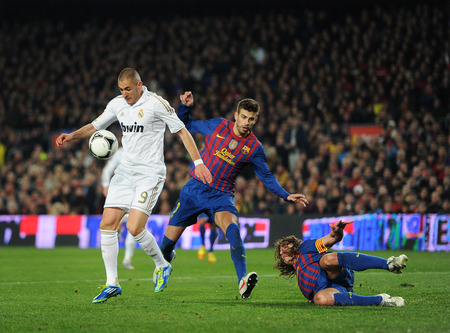 In terms of how Barcelona will line up, there are two big questions. Will Cesc or will Pedro play is the first and the second is will Adriano or will Puyol play. Considering the negative result at Stanford Bridge, i suspect that Pep will go with Adriano at left back and with Pedro on the wings to stretch up the play as much as he can. So here is my suspected line up from Barcelona:
———–Valdes———-
Alves–Pique—Puyol—Adriano
————-Busi————
——–Xav——–Iniesta——-
–Alexis——-Messi——-Pedro—-
On the other hand, this is the formation that i think Mourinho will put  out there for the game:
———–Iker———-
Altintop–Pepe—Ramos—Coentrao
——-Khedira—–Alonso————-
——–Ozil——–Kaka—-  Ronaldo—–
————-Benzema———–
The Psychological Aspect and The Inflated Lead
A lot has been made about how  Real Madrid have let go of a ten point lead and that it is only 4 points now. Before i make my point, let it be noted that Real Madrid were leading by ten points because they fully deserved to be leading by ten points. Let it also be noted that Barcelona cut the lead to 4 points by their own merit and their resilience to keep fighting, despite what Pep G Freud might say. With that said, the ten point lead was a very inflated lead. One that was never gonna stay as the games passed by. No team is perfect, and no team was going to go through the rest of the season not losing again. It's just unrealistic. To add to that, Barcelona had a schedule that was perhaps the inverse of ours. They played their tough games against the likes of Valencia and Athletic Bilbao at the beginning of the Calendar, while Real Madrid had those games a little further down the Calendar. That is why when BArcelona was dropping points against Athletic Bilbao and Valencia and Sevilla, Real Madrid was still beating the "not as strong teams" of the league. This is why the league expanded so much to create a sort inflation in the lead. However, when our time came to go through rough patches of games, it was only logical that we would drop points against tougher opponents. With that said, we are four points ahead, and i believe that this is perhaps a good indication of how the lead actually should be. Speaking of the four points….
What a significant lead to take into such a big game? It basically means that even if we lose the game, we go out of the game still leaders and with 4 games to go, and our fates still in our hands. If there is anything that should ease the minds of the players, then i can't think of anything else other than that. Not too big of a lead to neglect the game but yet not too slender to panic. Just enough to go out there and show what their worth. And that we shall do.
Prediction: 1-10 for Real Madrid . Why? Because we have a contract with the devil, and it states we shall never keep a clean sheet. Duh!
Olympics Betting Odds
Would you like to make some bets on the upcoming Olympic games but want to get the best Olympics Betting Odds first, then make sure you head to betfair today!